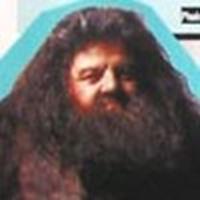 Robbie Coltrane
Robbie Coltrane talks about Hagrid and the trio
May 6, 2004 at 6:30 PM ET
grae The Leaky Cauldron (via Potter World Online)

---
Potter World Online

has sent a translation

of a brief interview Robbie Coltrane

did in 7 Extra, a magazine from Belgium, to The Leaky Cauldron

.
Some brief excerpts:
What makes Hagrid so popular?
His beauty! No seriously, I think it's because he reminds you of the "kind uncle face". The children like him as a confidante, because he doesn't represent the authority. He's funny and tolerant. Which kid doesn't dream of having a friend who can hide a (dragon?)?
The real fun is to play with young actors like Daniel and Emma. Well, it would be easier for me to play Hagrid without a beard and the morning make up task, but, as for the rest, all is real fun, so I don't complain... too much!
Potter World Online

also has a scan

of the article.