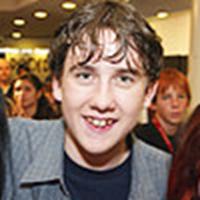 Matthew Lewis
Matthew Lewis at NZ sci-fi con
April 16, 2004 at 2:58 PM ET
Cheeser HPANA (via New Zealand News)

---
The actor who plays Neville Longbottom

in the Harry Potter films appears at a New Zealand sci-fi/fantasy convention

this weekend.
Picture 1 (courtesy MuggleNet)
Picture 2 (courtesy New Zealand News)
Matthew Lewis, 14, was "greeted like a pop star" as fans surrounded him for free autographs, to the continual amazement of his mother Lynda. She says it's strange to think of him as an international movie star, but "he's a very lucky lad," she admits:
"Matthew gets some very provocative letters from 18 and 19-year-old girls these days," said Mrs Lewis.
The family are in New Zealand for a week after three weeks in the US doing promotions and exhibition work.
They return to their Yorkshire home on Monday for two days before going to London to start filming the fourth Potter movie.
"It's hectic but it's worth it and Matthew loves meeting all the different fans," said Mrs Lewis.
Other stars at the convention include George Takei (Star Trek's Mr. Sulu) and Lord of the Ring's John Rhys-Davies (Gimli). Lewis will be signing free collector cards promoting Harry Potter and the Prisoner of Askaban from 10 a.m. to noon and 2 p.m. to 4 p.m. each day.