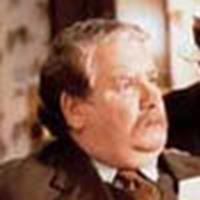 Vernon Dursley
Dursleys cut from 'Goblet of Fire'
April 7, 2004 at 8:23 AM ET
Geri CBBC Newsround

vernon dursley, richard griffiths, harry potter and the goblet of fire, goblet of fire, dursleys, fiona shaw
---
CBBC Newsround is reporting

that actor Richard Griffiths

(Vernon Dursley) is hoping for a fans' revolt after learning that the Dursleys will not be appearing in Harry Potter and the Goblet of Fire because the book is too long.
Richard is even reported to have approached JK Rowling about it:
I said to JK Rowling: "Couldn't the Dursleys turn up to an open day at Harry's school or something,' but she said, 'I don't think so'."
Griffiths' agent has said that Richard was "very disappointed" not to be appearing as Uncle Vernon in the film, but is hoping to be back for Order of the Phoenix.