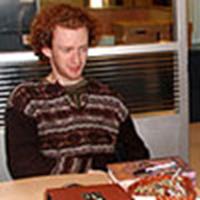 Chris Rankin
Chris Rankin talks to Scholastic
March 9, 2004 at 2:15 PM ET
Cheeser Chris Rankin Online (via Scholastic News)

chris rankin,scholastic news,percy weasley,harry potter,lindsay guastafeste
---
While in New York City being interviewed by HPANA's own editor Geri, actor Chris Rankin

(Percy Weasley) from the Harry Potter films also visited the Scholastic store there. Kid reporter Lindsay Guastafeste had a go with him

:
Chris Rankin is a very kind and funny person. As we were on our way to a tour of the Scholastic store, I offered to let him walk down the stairs in front of me. He insisted that I go first. He is funny because when we were visiting the Scholastic store, he clinked the suit of armor and said, "Oh, it's metal!" I guess he thought it was going to be made of plastic or cardboard.
Very kind and funny indeed.
In addition to HPANA and Scholastic, Chris was also interviewed by Time for Kids and Seventeen magazine while in NYC, so we'll probably be seeing further interviews published as the premiere of Harry Potter and the Prisoner of Azkaban rapidly approaches.