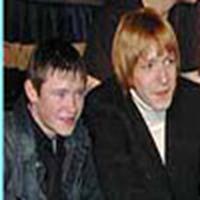 Update on Potter cast visit to the U.S.
February 11, 2004 at 8:03 PM ET
Geri The Leaky Cauldron (via Entertainment Legends)

---
A few weeks ago we reported that Matthew Lewis

, Devon Murray

, James

and Oliver Phelps

from the Harry Potter movies would be coming to the States for the first time. We now have additional information that they will be visiting California on March 13th & 14th and Utah on March 20th & 21st for the Celebrity Autograph Expo

.
Where you can see them:
March 13th at: Westfield Main Place -- 2800 N. Main St., Santa Ana, CA - Tel: 714-547-7000
March 14th at: Westfield Topanga -- 6600 Topanga Canyon Blvd. Canoga Park, CA - Tel: 818-594-8732
March 20th at: Jordan Commons -- 9400 South State St., Sandy, UT - Tel: 801-304-4550
March 21st at: MegaPlex 12 Theatres at Gateway -- 165 S. Rio Grande St., Salt Lake City, UT - Tel: 801-304-4550
Please note that there will be a charge for each autograph. If anyone gets a chance to go, don't forget to send us some pictures.