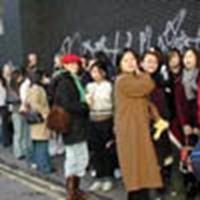 Cho auditions attract thousands
February 7, 2004 at 1:49 PM ET
Geri CBBC Newsround

---
Thousands of budding actresses queued

up for hours on Saturday in the freezing cold in the hope of landing the role of Harry Potter's love interest in Harry Potter and the Goblet of Fire.
Cho doesn't appear in the movie for the third book Prisoner of Azkaban, but there was no way film-makers were leaving her out of Goblet of Fire. A spokeswoman for Warner Bros. said around 3,000 hopefuls turned up.
"We hope to see everyone who comes along. We're going as fast as we can," she added.
CBBC Newsround decided to liven things up by putting eight hopefuls through their paces - find out the results here

.
Update: Jamie from MuggleNet was also on location to do a couple of video interviews

. Check it out.