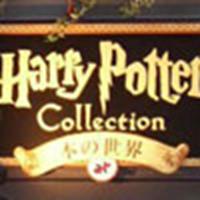 Official HP props and merchandise on display in Japan
February 6, 2004 at 11:57 AM ET
Cheeser HPANA (via Charmed By Dan)

---
Just yesterday, we linked to the exclusive "Harry Potter Collection" store-opening event covered by Japanese fan site Charmed By Dan

.
Today they've uploaded some gorgeous high-quality pictures

of Harry's Firebolt from Prisoner of Azkaban, some Hogwarts dining hall items, bags, lamps, all high-class stuff. [Ed.: We should be so lucky to have such a store in the U.S. Adults generally want classy clothes and merchandise, not chintzy toys.]
Update: Another fan, Sarah, visited the shop and took some up-close pictures of the symbols on Harry's Firebolt

, as well as transcribed the text from the Defense Against the Dark Arts book.