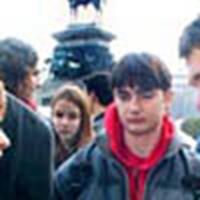 Thousands flock to Krum casting
February 4, 2004 at 7:58 AM ET
Geri HPANA (via Novinite)

---
Thousands of Bulgarian kids flocked to Sofia on the first day of the casting for the Victor Krum

part in the world blockbuster Harry Potter and the Goblet of Fire.
Journalists chased each kid that managed to enter the building, dogging them with questions. Despite the narrowly defined "look" described earlier by the casting director, boys and girls of all ages and appearance were hanging about the building.
Media reported that it will be clear next week whether there will be a Bulgarian boy cast in the role.