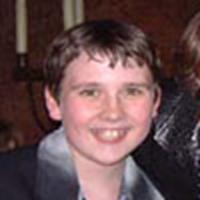 Q&A session with Matthew Lewis
January 3, 2004 at 9:32 PM ET
Geri MuggleNet

---
MuggleNet has arranged a Q&A session with Matthew Lewis

(a.k.a. Neville Longbottom from the Harry Potter movies) for this Sunday, Jan. 4 (8 p.m. GMT/3 p.m. EST /2 p.m.CST).
Update: A transcript of the event

is now available. Some short tidbits:
Question from Brittany
After you''ve finished with Harry Potter, do you plan to continue acting?
Matthew
I''m not sure. I mean, it's great and a good career but honestly I don't know, if I get lucky and get into other things, I'll probably continue.
Question from Sammy
Who are your best friends on the set?
Matthew
Everyone is really great fun to work with but my best friends are probably Dan (Radcliffe, Harry Potter), Rupert (Grint, Ron Weasley) and Alfie (Enoch, Dean Thomas)! But like I said, I get on well with everyone!