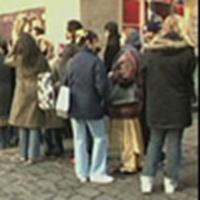 Girls line up for Potter stardom
December 21, 2003 at 1:20 PM ET
Geri HPANA (via Various)

---
As previously reported

, the open casting call for Pavati & Padma took place today and BBC News has a report about the 2,000 Asian teenagers who lined up in the cold in London's West End for a chance to star in the fourth Harry Potter film. Mugglenet also has an on-site report from a girl who took part in the casting session.
Here is portion of what BBC News reported

:
Girls braved the cold on Sunday to take part in an open audition for the parts of twins Parvati and Padma in Harry Potter and the Goblet of Fire. They came from as far as Liverpool and Cardiff to the Pineapple Studios in Langley Street, near Covent Garden. But they did not get a chance to show off their acting talents, as producers just wanted to photograph each girl.
Marissa who took part sent a report of her account to Mugglenet

, here is a snippet:
When we finally got in it was around 11:15am. Around 20 of us had to go in at a time and 10 in each room. Jasmine and I went in together, of course. Inside were just two women sitting next to one table, with a stack of forms and a Polaroid camera. Then they took a photo with another person (I went with Jasmine obviously) and then you just left. I was told that they were going to get in touch with me in 2-3 weeks, to tell me if I look the part and then they would concentrate on my qualifications.