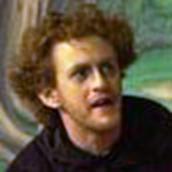 Chris Rankin as Snow White's 'Percival'
December 20, 2003 at 11:06 PM ET
Cheeser Chris Rankin Online (via Shropshire Star)

---
A reviewer liked

seeing Harry Potter star Chris Rankin as Percival the Henchman in a recent performance of Snow White at Oakengates Theatre

.
One of his other jobs is being Percy Weasley in the Harry Potter films. I thought he was clever and made a good job of being very naughty to Snow White - Katie Ray - and the other poor people in the town.
Chris said farewell

on his official site before departing to Telford, where Snow White is being produced. He'll be there through January. Next summer, he'll be joining HP Fan Trips

for their premiere tour of Britain.
Check out a picture of Chris in the performance

.