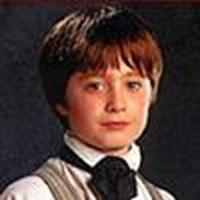 'David Copperfield' rerun this weekend
December 19, 2003 at 12:48 PM ET
Cheeser iharrypotter.net (via PBS)

---
Masterpiece Theatre

on PBS station WNET (New York) this weekend presents Charles Dickens' David Copperfield

, starring Dame Maggie Smith (Professor McGonagall), a young Daniel Radcliffe (Harry Potter) in his first acting role, Zoe Wanamaker (Madam Hooch) and Lord of the Rings wizard Sir Ian McKellan.
David Copperfield, Charles Dickens' semi-autobiographical novel, is a coming-of-age story, capturing the poignant comedy, tenderness and tragedy of the loss of innocence as children enter the adult world. Young David suffers the wrath of his stepfather, the abusive Mr. Murdstone; the betrayal of the charming sociopath Steerforth; battles the sniveling clerk Uriah Heep; and falls head-over-heels into a doomed infatuation with slow-witted Dora.
The program will air on WNET in New York on Saturday Dec. 20 at 11:10 p.m. ET

. It originally aired in December 2001, and most markets will see a new, different Masterpiece production

instead.
Daniel Radcliffe gave an interview

with Masterpiece Theatre in 2001 covering a range of topics:
Do you like to read more now?
Yes, definitely, because that's what the Harry Potter books really did; they introduced me to reading. At the moment I'm reading The Hitchhiker's Guide to the Galaxy. And watching films... films is my biggest of all hobby.
Do you have a favorite movie?
Probably What's Eating Gilbert Grape.
And do you have a favorite book?
It's either Harry Potter number two or a book called Holes by Louis Sachar. It's really good.