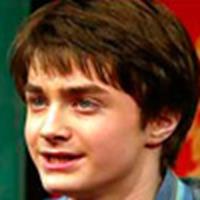 'Order of the Phoenix' movie rumors squashed
December 16, 2003 at 10:47 PM ET
Geri HPANA (via Various)

---
So much for those Harry Potter and the Order of the Phoenix movie rumors that we reported on earlier this week.
According to DanRadcliffe.co.uk

:
My official source confirmed for me this morning that Dan has NOT yet been cast for Order of the Phoenix and this is truly just a rumor. It is way too early to be thinking about the fifth film and they are really concentrating on the fourth film, and completing the third! No one is in discussion or negotiation for the fifth film at this time.
And thanks to FilmJerk

(via The Leaky Cauldron

), we now know that Warner Bros. "are not even thinking about a director for the fifth film yet."
A more editorial comment was made by an anonymous staffer, according to the report:
"I haven't heard that name mentioned internally, and, with the interest and talent interested in directing the franchise, I really doubt they would bring in someone whose last film killed off the Star Trek franchise, although it was hardly his fault alone."
Just goes to show you that you shouldn't believe everything that you read, especially if it comes from a tabloid or other unofficial or unreliable sources

.