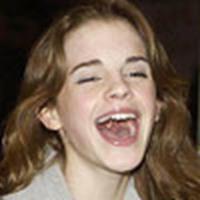 Emma Watson at final 'Rings' premiere
December 11, 2003 at 10:14 PM ET
Cheeser The Leaky Cauldron (via WireImage and BBC)

---
Emma Watson attented the premiere of Lord of the Rings: Return of the King tonight at the Odeon Theatre Leicester Square

. A big thanks to Page from DanRadcliffe.co.uk

for the tip. You can see a picture

at The Leaky Cauldron

.
The BBC report also published a small gallery

from the premiere, in which Emma

is mistakenly named "Emily."
Update: Joey of EmmaBrasil.com

has more pics of Emma at the premiere, and you can see them here

.
Plus even more pics can be found at Wandless Magic

.
You can also view all the pics together at Emma Watson News

.