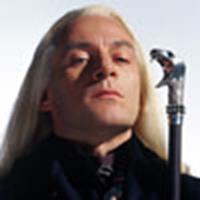 Interview with Potter baddie Jason Isaacs
December 5, 2003 at 8:58 PM ET
Geri HPANA (via Daily Record)

---
Potter baddie Jason Isaacs discusses

his new upcoming film, Peter Pan and how he nearly didn't do the Harry Potter movies.
Jason Isaacs

who plays the villainy Lucius Malfoy talks about why he did the Harry Potter movies as well as the addicting factor of the books.
"So, I wasn't quite sure whether to do Lucius Malfoy or not. I read all four books in one sitting and I suddenly understood why my friends, who I'd thought were slightly backward, had been so addicted to these books.
"You know, they're like crack, but nonetheless, I thought, 'Should I really do Lucius Malfoy, I just committed to doing Captain Hook?' All my godchildren called me and said, 'You have to do it'. And I've got a young daughter Lily so all these kids were saying she'd be really proud of me when she's older, she was six months at the time."