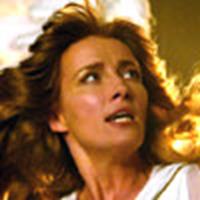 Thompson is an angel in 'America'
December 5, 2003 at 3:11 PM ET
Cheeser HPANA (via CNN)

---
The reviews are in, and HBO Films' new $60 million production of Tony Kushner's play Angels in America

appears to have hit the mark. Packed with a stellar cast, including Harry Potter and the Prisoner of Azkaban star Emma Thompson

, the adaptation of the Tony Award-winning play "has a way of sticking with you. Love, sexuality, politics, society, religion ... days later, you may find yourself still pondering what it all meant."
From the Associated Press review

:
HBO's Angels in America is a grand achievement, a set of disparate characters and narratives that interlock powerfully. The cast is spectacular, with several of the actors playing multiple roles (fancy, [Meryl] Streep as a wizened old rabbi!). And [director Mike] Nichols channels the whole rambunctious affair into a sleekly told saga.
The Salt Lake City tribune also analyzes the production

, concentrating more on the story of how it transformed from a play to a film.
Some photos were picked out earlier this week by The Leaky Cauldron

:
You can explore the Angels in America official site

for more of these pictures. The first part of the movie premieres Sunday at 8:00 p.m. ET, and finishes the following week.