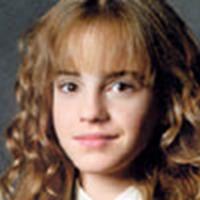 Interview with Emma Watson
December 4, 2003 at 5:36 PM ET
grae MuggleNet (via Potter World Online)

---
MuggleNet

has posted a translation

of an interview Emma Watson

did with the French magazine ONE, along with some scans of the article, courtesy of Potter World Online

.
Here are two of the questions and answers:
ONE: Can you tell us your relations with Daniel Radcliffe and Rupert Grint? What are they to you...really?
EW: More than friends, they've become like brothers. Or sisters, I don't know... [laughing] In fact, I don't see them like normal boys. I mean, I cannot imagine myself going out with one of them. For me, they are like my best friends (in a feminine way). I can laugh and talk about anything with them without feeling nervous. I really like them a lot.
ONE: If Hermione doesn't fall in love with Ron or Harry, whom do you see her with?
EW: I hope she doesn't get with anybody! If she had to have a crush on a guy, I think he would have to be very serious, very academic. Why not a Hogwarts' teacher? I think that would be appropriate for her character. But she would definitely be embarrassed with the age difference.
You can read the rest of the interview, along with the scans, here

.