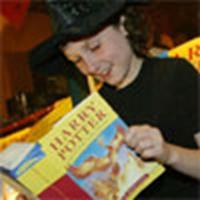 Harry Potter intimidating?
November 19, 2003 at 3:37 PM ET
grae The Leaky Cauldron (via USA Today)

---
Harry Potter intimidating? More than a few younger readers might scoff at the idea as they race through their copy of Order of the Phoenix for the umpteenth time, but Richard Allington, an education professor at the University of Florida in Gainesville, thinks it's an entirely different story

for struggling readers.
It appeals to kids who already read well or who are lucky enough to have a parent or teacher read it to them. "I don't know that Harry Potter is capturing many of those 15- and 16-year-olds reading at a fifth- or sixth-grade level," he says.
For struggling readers, the series can be intimidating. It's written at about seventh-grade level, beyond many middle-schoolers. And at 870 pages for the latest book, that's akin to the average adult reading The Decline and Fall of the Roman Empire for fun.
"For some reason, we've got this screwed-up notion that hard reading is good" for kids, says Allington. "But hard reading is hard, and nobody likes to do it all the time."