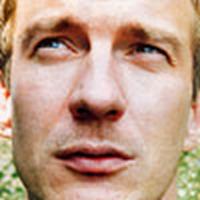 Thewlis' directorial debut at the London Film Festival
October 17, 2003 at 6:08 PM ET
grae The Leaky Cauldron (via 47th London Film Festival)

---
If you're curious about David Thewlis

, who will be portraying the new Defense Against the Dark Arts Professor in next year's Harry Potter and the Prisoner of Azkaban, then you may want to see the new film Cheeky

, which will be premiering next month at the 47th London Film Festival

.
Accomplished actor David Thewlis makes his feature film directing debut with this tender and funny first feature. Thewlis also takes the lead role as Harry, a quiet toyshop owner who leads a simple life in an unremarkable northern town until the sudden death of his beloved wife turns everything upside down. Desperate to be reunited with his estranged son, and believing it to be his wife's last wish, he is persuaded to appear on a popular but excruciatingly crass TV show 'Cheeky', where the contestants are quizzed on their general knowledge before being let loose to insult each other with ever increasing gusto. Thewlis gets the tone of the film just right, underscoring the themes of grief and reconcilation with no small degree of wit, and also finding space to work in some lovely sideswipes about the regional view of our glittering metropolis. Hugely understanding of and sympathetic toward his characters (played by a cast which also includes the redoubtable Lesley Sharp

and Ian Hart

, this is an affectionate and life affirming tale, and a more than auspicious debut.
You may remember Ian Hart as Professor Quirrel from Harry Potter and the Sorceror's Stone - which means with Cheeky you get two Defense Against the Dark Arts teachers for the price of one ticket...