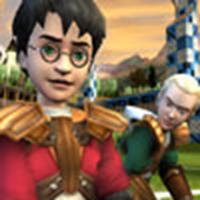 EA Games' Quidditch World Cup readies for release
October 8, 2003 at 10:45 AM ET
Cheeser The Leaky Cauldron

---
IGN reports

on a recent visit from EA Games

to their studios to reveal the near-final build of EA's new video game, Harry Potter: Quidditch World Cup

. IGN says the company has done "an incredible job" translating the fantasy sports game from screen to, well... screen:
Once you grasp the general concept, it's easy to zip through the skies on a broomstick. The simplified control might turn off serious sports players, but it will no doubt be a delight with kids and Harry Potter fans. Scheduled for an October 28th release, Electronic Arts promises that all versions of Quidditch will be running identically across all consoles and the PC.
The report includes links to IGN's previous reports as well as some screenshots of the game in action.