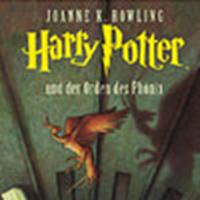 German 'Phoenix' at printers
October 1, 2003 at 10:55 PM ET
James Wizard News (via Associated Press)

---
Continuing an approximate 145 day wait after publication of the English Harry Potter and the Order of the Phoenix, German fans are nearing

the official release of the German translation of the novel. The book is currently at printing presses.
Germany's Potter enthusiasts will have to wait until Nov. 8 for the translation of "Harry Potter and the Order of the Phoenix" to appear in bookstores - a 4 1/2-month lag from the publication of the English original, which became the first English-language book to top the German best seller list.
However, publisher Carlsen said author J.K. Rowling authorized the publication starting Oct. 25 of its first chapter in 21 newspapers sold by homeless people in Germany, Austria and Switzerland, giving the papers "the possibility to raise their circulation and attract greater attention to the projects' social concerns.
The cover for the book was chosen in August by popular vote. Take a look.