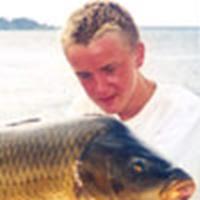 Felton the fisherman
Tom Felton returns for NY carp fishing tournament
August 21, 2003 at 3:32 PM ET
Cheeser MuggleNet (via NPR)

tom felton fishing
---
The actor who plays Draco Malfoy in the Harry Potter films is back in New York this week

for the annual St. Lawrence International Junior Carp Tournament

:

This week, a hundred young carp anglers and their families descend on the North Country for the inaugural St. Lawrence International Junior Carp Tournament. Organizers hope the event will make the St. Lawrence a premier fishing destination.

Tom Felton, who is an avid fisherman, has said he'd love to own a fishery

if acting doesn't work out:

BBC: Do you want a career as an actor?

Felton: Whatever life throws at me I'll take it and be grateful for it as well. I'd like to own my own garage and my own fishery. I'd also like to be a professional fisherman. But I'll take whatever happens.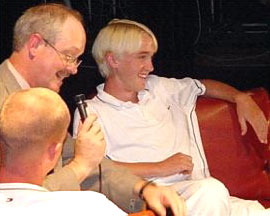 New (or rarely seen) pictures
Rummaging through the St. Lawrence tournament site, I stumbled on several high-quality pictures of Tom and his prize catches. Some I had never seen before:
* From Tom Felton UK