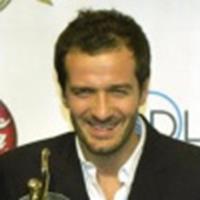 David Heyman
David Heyman talks 'Deathly Hallows: Part 2' early cut
Published February 13, 2011 at 5:04 PM
by Jeremy
from HPANA (via Empire Online)
---
In a brand new interview

with Empire Online, David Heyman (Producer of the Harry Potter series) spoke at length about his Potter experiences, including a brief bit about the state of Harry Potter and the Deathly Hallows: Part 2.
On the Deathly Hallows: Part 2 rough cut:
Yeah. I've seen a very, very early cut. It's very exciting. No visual effects, no music, no sound effects, and it's really exciting. But it's early days and the film continues to take shape and will continue to take shape over the next many months. I think it will be a great ending to the series.
On the much anticipated Epilogue scene:
I think it does work and it's very moving. We actually did it once, and then re-did it a little bit because we needed to refine something, and I'm pretty glad we did. It's a very quiet, moving scene, but I think it leaves the series on the right note.
To read the interview in its entirety, click here

.
Thanks to /Film

for the heads up!
Harry Potter and the Deathly Hallows: Part 2 will be released in theatres on July 15, 2011.
Views

4255

Comments

8