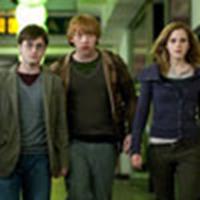 'Deathly Hallows'
Box-Office Update: 'DH: Part 1' takes $125.1 million weekend haul
Published November 21, 2010 at 2:17 PM
by Jeremy
from HPANA (via Box-Office Mojo)
---
Harry Potter and the Deathly Hallows: Part 1 had a magical weekend

at the box-office.
While it has failed to reach the November box-office record, it has shattered the Potter record with a $125.1 million opening weekend, surpassing the previous $102.7 million mark of Goblet of Fire.
The $125.1 million mark is the sixth largest box-office opening to date, and the estimated $12.4 million Imax gross sets a new record.
Can Deathly Hallows: Part 1 continue to work its magic into the Thanksgiving weekend? Check back next week for another box-office update.
Views

1998

Comments

11