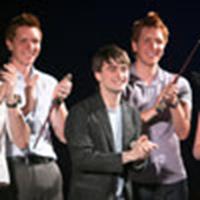 James & Oliver Phelps, Dan Radcliffe
JKR attends opening of 'Wizarding World of Harry Potter'
Published June 17, 2010 at 12:18 AM
by Geri
from HPANA (via Various)
---
For all the announcements of who would attend the grand opening of Universal Orlando's Wizarding World of Harry Potter, few mentioned that the author herself, JK Rowling, would be making an appearance.
Ms. Rowling joined

Daniel Radcliffe, Rupert Grint, Matthew Lewis, James and Oliver Phelps, Bonnie Wright, Michael Gambon, Tom Felton, Warwick Davis, composer John Williams, and many more for tonight's festivities.
You can see some photos of Ms. Rowling courtesy Getty Images

. More will be posted here on HPANA from Jeff and Jeremy who attended the opening in Orlando.
InsideTheMagic.net has high-quality video

from the event on their website.
Views

4545

Comments

12