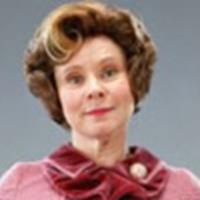 Imelda Staunton as Umbridge
Imelda Staunton to return as Umbridge in 'Deathly Hallows'
Published November 19, 2009 at 10:40 PM
by Jeremy
from SnitchSeeker (via Daily Mail)
---
In a new interview

with the Daily Mail, Imelda Staunton confirms her return to the role of Dolores Umbridge in Harry Potter and the Deathly Hallows.
Another role that Staunton is to revive is that of the malicious Dolores Umbridge for the two-part film Harry Potter And The Deathly Hallows, which is due out next year.
'Now, that is a great role,' she says with relish. 'It was wonderful playing this baddie dressed in pink, and to be able to play her again is a real treat.'
To read the full interview, click here

.
Harry Potter and the Deathly Hallows: Part One is set for a November 19, 2010 release (one year from today), with Part Two hitting theaters July 15, 2011.
Views

2141

Comments

12