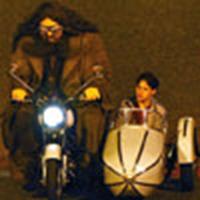 Seven Potters chase sequence
Update: Seven Potters filming sequence underway for 'Deathly Hallows'
Published July 26, 2009 at 3:10 PM
by Jeremy
from HPANA (via Various)
---
Filming is underway for the Seven Potters chase sequence in Harry Potter and the Deathly Hallows. Pictures have emerged

online showing the stunt doubles of Harry and Hagrid filming scenes on Sirius' motorbike.
To view the photos, courtesy of HP4Unews, click here

.
Thanks to SnitchSeeker

, MuggleNet

, and HP4Unews

for the tips!
UPDATE: Additional images

from filming that took place earlier today, showing stunt doubles for Harry & Hagrid, are now online.
Views

12461

Comments

37