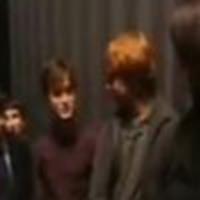 Dan & Rupert
'Deathly Hallows' set visit featured on Comic Relief's Red Nose Day celebrations
Published March 13, 2009 at 4:30 PM
by Geri
from HPANA (via SnitchSeeker)
---
&Itemid
During tonight's airing of footage celebrating Comic Relief's Red Nose Day in the UK, the BBC showed a brief segment featuring Daniel Radcliffe, Emma Watson and Rupert Grint mingling with school children as well as images from the set of the Harry Potter and the Half-Blood Prince movie.
The footage aired

included:
The pupils were taken to Leavesden Studios where animals trainers showed them owls and the dog that plays Fang. They were also shown around the sets and got to watch a bit of filming. During the clip we saw footage of the Headmaster's office, which included a close-up first-look at the portrait of the sleeping Dumbledore.
They also got to speak to Dan Radcliffe, Rupert Grint and Emma Watson. Dan told a story about raising money for the charity one year by doing a sponsored silence.
UPDATE: Thanks to DR.com you can view video of the footage here

or here

via SnitchSeeker.
Views

3014

Comments

18