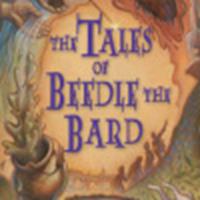 'Beedle the Bard'
'Beedle' preparations; 8 million copies to be released worldwide
Published December 3, 2008 at 10:01 PM
by Jeremy
from HPANA (via Various)
---
With just a few hours left until the much anticipated release of Tales of Beedle the Bard, the preparations for this release are in motion.
We are receiving news from bookstores that have boxes of the novel in storage awaiting release, we are also
getting word

that a total of eight million copies are being released world wide tomorrow, whilst those who pre-ordered the book via Amazon have gotten confirmation emails that the books have been shipped.
"We expect it will crash straight in at No. 1 in our book charts," Jon Howells, of Britain's Waterstone's book store chain, said Wednesday. "It would take a battle of magical proportions to dislodge it before Christmas."
Currently there are several midnight release parties

all around America, with several others already finishing in Britain and Europe.
UPDATE: Thanks to TLC

for letting us know that you can now view a video of rthur Levine, editor of the US editions of the Harry Potter novels, reading from his handwritten copy of The Tales of Beedle the Bard.
Views

1974

Comments

23