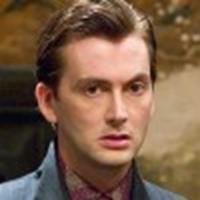 David Tennant
Rowling considered for 'Doctor Who' special?
Published September 17, 2008 at 11:04 AM
by Cheeser
from Moreover (via The Sun)
---
Author JK Rowling was to be written into a special Christmas episode of television show Doctor Who, but star David Tennant (who also played Barty Crouch Jr. in Harry Potter and the Goblet of Fire) refused to take part, according

to The Sun:
The episode was to see JK's imagination, full of magic and wizards, become reality after she is attacked by a giant space bug.
[Producer Russell] Davies explained: "Zap! JK's imagination becomes real! A world of Victorian magic replaces the present-day world."
But Tennant apparently thought the idea too silly even for the often downright ridiculous comedy.
[Ed: Please keep in mind this is The Sun. There's no doubt a sliver of truth somewhere in here, but more than likely this was a pipe dream that never materialized. It would be surprising if Rowling was even contacted about the project.]
UPDATE: According to the Times Online (like The Sun, owned by Rupert Murdoch's News Corporation), these quotes are excerpts from e-mails

between Russell and journalist Benjamin Cook, with whom Russell was discussing a book project.
Views

4104

Comments

47