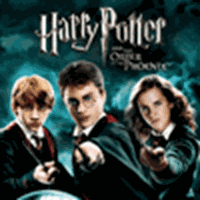 'OotP' DVD cover
Update: 'Order of the Phoenix' on DVD, Blu-ray & HD DVD Dec. 11
Published September 7, 2007 at 2:45 PM
by Geri
from Yahoo! News (via Coming Soon)
---
Warner Home Video has officially
announced

that the
Harry Potter and the Order of the Phoenix
DVD will be released as a Two-Disc Special Edition, a Widescreen version, a Full Screen version, a Blu-ray Disc ($34.98) and a HD DVD ($39.98) on December 11, as
previously reported
. They will also release a 'Years 1-5' limited edition box set.
The DVD will include:
10 minutes of never before seen footage
An A&E documentary
A featurette called Trailing Tonks, in which you spend a day with actress Nat Tena and receive a very personal and often wacky tour of the Order of the Phoenix stages
A Harry Potter: The Magic of Editing feature, in which director David Yates and editor Mark Day show us what a difference a good edit makes and then allow you to edit a scene
The Hidden Secrets of Harry Potter in which look for clues in the past Harry Potter films for what the future films may hold
An In Movie Experience, in which you join the cast from Dumbledore's Army as they come together to share memorable moments
As well as more making of featurettes and Fun and Games.
UPDATE: A full list of all the specs for each of the DVD versions can be found here

.
Views

15774

Comments

81