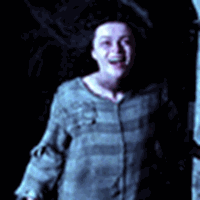 Bellatrix Lestrange
'Phoenix' featured in EW & Empire magazines
Published May 25, 2007 at 7:24 PM
by Geri
from HPANA
---
The July issue of Empire magazine features a six-page spread

on Harry Potter and the Order of the Phoenix in which director David Yates, actors Dan Radcliffe, Emma Watson and Rupert Grint discuss the new movie. While no new pictures are shown there are new quotes from the actors.
Also, this week's issue of
Entertainment Weekly
contains a
scoop

on Bellatrix Lestrange, portrayed by Helena Bonham Carter, who says her character is "...a sadist. And a racist, obsessed with blood purity - like Adolf."
Thanks to TLC

for the Empire scans and to Shannon for the Entertainment Weekly scan.
Views

6134

Comments

82