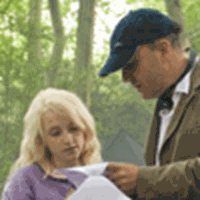 Evana Lynch & David Yates
Yates feels "invigorated" & Watson says Yates "perfect for this"
Published May 6, 2007 at 9:57 AM
by Geri
from The Leaky Cauldron
---
In a new interview

from the set of Harry Potter and the Order of the Phoenix Dan Radcliffe and Emma Watson comment on the role of the Order, as well as have extremely kind words for their director, David Yates. Yates discusses working on the film and how invigorated he feels after two years of filming. He also mentions that he wants to push the actors and that the next film is going to be much more fun.
Emma Watson on director David Yates:
He was perfect for this. I don't know if he could have directed any of the other ones. This was his story to tell.
He's quiet, thoughtful, sensitive. Mike [Newell, director of Goblet of Fire] would sit in his chair and yell at us, or stand up and just be very loud and British. Whereas David will think for a bit, he'll come over, speak a few words, keep it to a minimum. The thing that always comes up with David is finding truth in the characters, truth in the performance, make it real.
Yates on the movie and working on Half-Blood Prince:
I know Alfonso and Mike, when they came out, they were kind of shredded, but I've come out feeling invigorated. And I don't think I'm quite done with this world yet. These can be great films about childhood. The next one's full of sexual politics, and the kids are getting better as actors, and I want to push them even more. This one's quite lyrical and intense. The next one is more fun.
I've had more fun in the last two years than I've had making anything. The whole thing's slightly addictive. It's difficult to let go.
Dan equates the Order of the Phoenix to the French Resistance:
We're the French Resistance and Voldemort and the Death Eaters are the Nazis. Obviously, in a magical context. Harry's like a Vietnam veteran. He's seen awful things and come back into a society that's rejected him. That's the main parallel I've been drawing on.
In another

article discussing summer movies, Luna Lovegood's radish earrings are discussed by the costume department on the movie:
The new student at Hogwarts, the "odd" witch Luna Lovegood, is described in the novel as wearing radish earrings. The costume department on the film hired several jewelry designers to make the earrings, but Evanna Lynch, the young actress who plays Luna, was so into the character that she made her own. "And they were better!" says costume director Jany Temime. "More artsy-craftsy, more like what a creative young girl would do. The stuff we had was too professional. So we used hers."
Views

10571

Comments

110