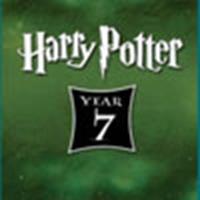 Book 7
News on book 7 coming soon?
Published November 15, 2006 at 10:08 PM
by Geri
from HPANA (via News Tip)
---
HPANA member Anne sent us word that Barnes & Noble have started to receive signs for the seventh Harry Potter book. While her email states that the signs are vague, indicating that fans who pre-order the book will receive a 40 percent discount, it does give hope that news may be forthcoming soon.
Anne's message:
Just to let you know, I had the joy of opening the holiday sign packages at the Barnes and Noble I work at today to discover signs for the seventh book. They're vague and I don't know an exact date, but it means that the company big wigs probably know a date on which to expect more information. So, if nothing else, it's a sign that good news should be headed our way soon. As you can see from the attached photo, the book will be sold at 40% off list price for those who pre-order. Just thought I'd send it along. Feel free to post the photo if you'd like. I know it's not really amazing news but I figured, hey, it's something.
You can see a picture of the signs here

and please don't read anything into this until confirmed by JK Rowling herself or her publishers (Bloomsbury and Scholastic).
Views

23720

Comments

224