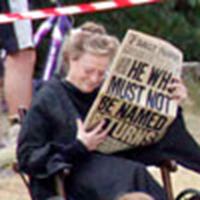 Prof. McGonagall
New pictures from the 'Order of the Phoenix' set
Published September 2, 2006 at 3:58 PM
by Geri
from Harry Potter Fan Zone (via The Portus)
---
Some new pictures from Harry Potter and the Order of the Phoenix have appeared online. The pictures, from filming at Virginia Water, appeared in Women's Day magazine last week, and are now availabe in hi-res.
The pictures show Natalia Tena (Tonks) in costume kissing director David Yates, Martin Bayfield (Hagrid's body double), Tom Felton (Malfoy) and Maggie Smith (Prof. McGonagall) reading The Daily Prophet.
You can view all the images here

courtesy of the Portus

.
Views

28256

Comments

233