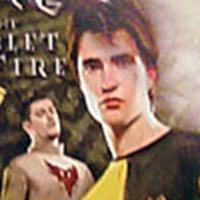 Triwizard champions
Picture of 'Goblet of Fire' champions at NY toy fair
Published March 17, 2005 at 12:15 AM
by Cheeser
from HPANA (via Row M)
---
At last month's American International Toy Fair in New York, Warner Bros. and its merchandise licensees pulled out all the stops to promote November's release of Harry Potter and the Goblet of Fire in theaters.
Row M

was there and shared pictures of new LEGO sets and toys, but they found some other great gems in unexpected places, including partial closeups of all four Triwizard Tournament champions: Harry Potter (Daniel Radcliffe), Fleur Delacour (Clémence Poésy), Viktor Krum (Stanislav Ianevski) and Cedric Diggory (Robert Pattinson).
Click for pictures:
View even more pictures here

and here

.
Views

39215

Comments

305