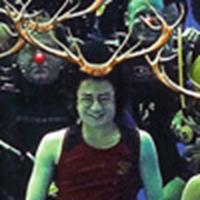 Daniel Radcliffe underwater
Dan wishes fans a 'Happy Christmas' with new photo
---
Both Daniel Radcliffe fan sites, DanRadcliffe.co.uk

& DanRadcliffe.com

have received a new photo and letter from Harry Potter star Daniel Radcliffe, in which he writes that this year instead of sending him presents he suggests that fans (if they want) make a to donation to Demelza House – the Children's Hospice

he supports: "Last year's appeal was extremely successful and, while I love receiving gifts from all over the world, I am afraid I no longer have enough space in my house to store the wonderful presents I have been sent over the years."
This year's picture was taken from the set of Harry Potter and the Goblet of Fire second Tri-Wizard task:
Please find enclosed the Christmas card I will be sending this year. It was taken on the last day of filming the underwater task, 20 feet down in the tank which was specially constructed at Leavesden Studios. This is one of my favourite photos, which I wanted to share with you. Every single person you see, trained, helped and guided me through this very demanding sequence. I have obviously taken a few liberties with the photo to give it a festive flavour! This card will be sent in response to all letters I receive between now and the end of December.
You can see the photo here

& read the letter here

.
Views

23847

Comments

204