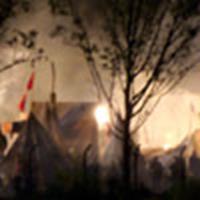 'Fire' set on fire
Dark Mark rising on 'Goblet of Fire' set?
Published November 10, 2004 at 10:18 PM
by Cheeser
from Veritaserum (via TheSnitch.co.uk)
---
"Generators, smoke machines, flame generators and massive sodium lamps have been burning long into the night this week on the Leavesden back lot Quidditch World Cup camp site set," tipster Keith Broad told
TheSnitch.co.uk

today.
"It was a generally held opinion amongst those watching that Harry, Ron and Hermione could all be seen in action running through smoking and flaming tents!" said Broad.
Burning campground

Filming at the Harry Potter and the Goblet of Fire lot has been ongoing for weeks, and several fan photographers have snapped pics including some we posted last week.
Views

13276

Comments

155