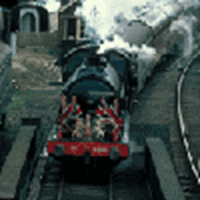 Films spark tourism and travel
Published January 24, 2004 at 4:10 AM
by eudaemonia
from HPANA (via New York Times)
---
With films like Lord of the Rings, Lost in Translation, The Last Samurai, and Cold Mountain sparking interest to travel to respective locations witnessed on the silver screen, many tour operators have responded by creating travel packages to satisfy many a movie fan's fantasy

. And the Harry Potter films are no exception:
Harry Potter has inspired children to visit the barrier between platforms 9 and 10 at Kings Cross Station in London looking for the Hogwarts' Express since 1997, when the first of J. K. Rowling's books was published. A number of tour companies have organized itineraries that include, if not the actual Diagon Alley or Hogwarts School of Witchcraft and Wizardry, then some of the sites, later enhanced by special effects, that were those imaginary settings on the big screen.
If the latter sounds familiar, it is in fact the HP Fan Trips

that was introduced last October.
Views

2655

Comments

73