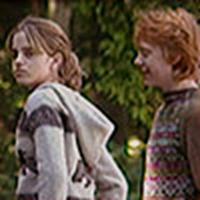 Video clip from Extra's behind-the-scenes 'Azkaban' report
Published November 13, 2003 at 8:57 PM
by Cheeser
from HPANA (via Extra TV)
---
As
promised yesterday
, Extra has broadcast and now put online
a behind-the-scenes clip from their on-set report

of the film "Harry Potter and the Prisoner of Azkaban." Emma Waston talks about Brad Pitt, Robbie Coltrane explains how he kept cool in his Hagrid outfit during 100 degree temperatures this summer, and more:
"Extra" got the first look at the new Harry Potter movie, The Prisoner of Azkaban. And our "Extra" sneak peek of the third Harry Potter film continues with its stars conjuring up some secrets from the set just outside London.
Update: DanRadcliffe.com has some captured images from the video

now online, for those who can't view the video on Extra's site..
Views

9180

Comments

78